Dental implants are a permanent and appealing solution to replace missing or extracted teeth. They are better than other alternatives like bridges because no additional teeth need to be altered to place the new tooth.
The entire implant process is performed over the course of a few months. The first part of the process is to install the implant itself, where a screw is placed into the jaw bone. An incision is made in the gum so that the implant can be inserted. Multiple implants can be placed at once if necessary. After the implants are placed the gums are sutured.
The implant must be allowed about 3-6 months to heal, and during this time the jaw bone will form around the implant in a process called osseointegration. During this healing time you can have temporary crowns installed so that you can eat and speak normally and maintain a proper aesthetic appearance for your smile.
Who can benefit?
Dental implants can be a smart choice for adults of all ages, whether you were born without a tooth or have had to have teeth removed due to injury, infection or decay. They can also be an option for adolescents, once facial growth and development has been completed. Generally, this occurs around age 16 for girls and age 18 for boys.
What to expect?
Initial consultation: Your implant dentist will thoroughly examine your mouth, including taking X-rays or 3D images, discuss the various implant options and develop a plan for your implant surgery.
Types of Implants and Techniques
Dental implants come in different sizes, heights and types. Your dental implant expert can help you determine which option is best for you, depending on your particular needs.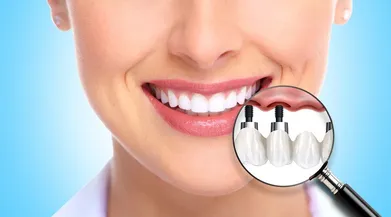 After the implant has healed it is time to place an abutment on the implant. The abutment serves as the base for your new tooth. One this is placed an impression of the abutment is taken and is used to create your permanent restoration. Some offices have an onsite lab to create the crown, but others will have to send it to an outside lab. Once the restoration is completed you can return to the office to attach the restoration permanently. Your smile will look just like it used to, and after a short period of getting used to the implant it will feel just like one of your own teeth.
---
Dr. Frederick was born and raised in Miami, Florida. Following the path of his father Stanford, grandfather and brother Jeffrey, Freddy graduated from the Ivy League University of Pennsylvania School of Dental Medicine. Practicing over 30 years in Miami, Dr. Frederick continues his dental education with extensive continuing education classes, ensuring that his patients receive the most comprehensive and advanced dental care.

Dr. Jeffrey completed his college and dental school education at the prestigious University of Pennsylvania. Practicing in the Miami community for over 30 years, Dr. Jeffrey's dental practice focuses on more complex rehabilitation cases and full mouth restorations.
---